Here are some pictures of me at the 2012 International Christian Retail Show in Orlando. Here promoting my book by signing, meeting with retailers and media, doing interviews, etc:
And a YouTube video of my book signing at the Orlando Convention: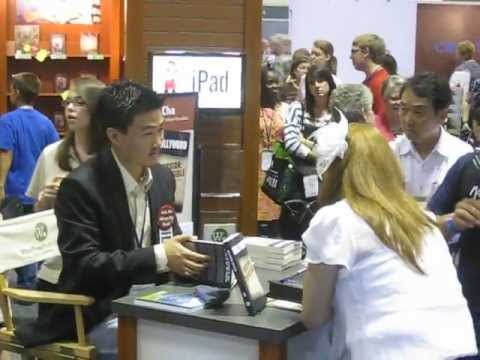 Currently Reading:
SIGNS OF THE TIMES
by Greg Laurie
Category: Eschatology / Christian Living
Kerygma Publishing (2010 edition)
I will be at Grace Ministries International (GMI) Church in Fullerton, CA on July 29, 2012. I will be speaking at the High School Ministry for both the 9:30 am and 11:30 am services in promotion of the gospel, evangelism, and my book Hollywood Mission: Possible. This is by far the largest crowd I will be preaching in front of (250 people total) and the first time I will be speaking for two services on one Sunday. If you live around the Fullerton area, this would be a great opportunity to come hear me preach and meet-and-greet afterwards during my book signing session for my book.
Here is the information for the speaking engagement:
Grace Ministries International (High School Ministry)
1701 West Valencia Drive
Fullerton, CA 92833
Date: July 29, 2012 (Sunday)
Times: 9:30 am & 11:30 am
Event Contact: Joon Lee, 714-742-2995
Currently Reading:
ANGELS
by Dr. David Jeremiah
Category: Christian Living / Biblical Studies
Multnomah Books, 2009
I will be in Orlando, FL from July 14-20 for the 2012 International Christian Retail Show at the Convention Center. This is a major push on my part to get my book, Hollywood Mission: Possible, into retail stores all across the nation, and maybe even internationally. During this event, I will sign and distribute 125 of my books for retail companies, and also conduct TV interviews for various media organizations. 
ICRS is a major event where retailers, media outlets, and publishers learn about the new Christians books that are in the market. It is attended annually by over 1000 people, composed of retail store owners, authors, and publishers. Please pray that many media organizations and retail stores will take notice of my book so it can be available internationally in stores, and subsequently in churches. 
If you are attending ICRS and would like to meet me, I will be having my signing session at the WinePress Books booth on Monday July 16th from 2:30pm to 3:30 pm. The rest of the days I will be walking around the Convention Center, talking with industry people, making connections, and giving out bookmarks. 
If you would like to book me for a speaking engagement for your church or media organization, this would be the ideal time (from July 14-19), because I probably won't be back in Orlando for a while afterwards. Fill out the information in the SPEAKING section if interested.