Currently Reading:
Seven Reasons Why You Can Trust the Bible
by Erwin W. Lutzer
Category: Christian Living
2008 Expanded Edition, Moody
A few weeks ago, I went to an acupuncturist in Los Angeles to begin treatment on my migraine headaches. When I arrived, there was a cop car and paparazzi in front of the office. I didn't know what was going on until out walks the singer Gwen Stefani, as she quickly got into her car and drove off. The doctor later told me that Gwen was one of her weekly patients in the office. Just yesterday night, I prayed with one of my church buddies that the Lord would providentially allow us to meet on the same day and same time today in order so I can evangelize/get the gospel message to her. We didn't know what to expect.
By God's grace, our prayers were miraculously answered. When I went in for my appointment time today, Gwen came in around the same time, and I was able to do my usual "Hollywood Mission: Possible' thing with her. She received one of the Are You a Good Person tracts from Living Waters Ministry, which has also been given to celebrities like Harrison Ford, Keifer Sutherland, and Tori Spelling.
Please pray for the salvation of this lady, that she would repent and trust in the Savior today.
To read more Hollywood evangelism celebrity stories from my 3 years in Hollywood, get a copy of my book, Hollywood Mission: Possible, at Amazon.
Christians advocate social justice, but exactly does this look like? Do we have a tendency to pick which issues we want to address and act upon, while ignoring others? How does this form of social justice counter the culture around us? Is it suppose to?
In David Platt's new book Counter Culture, the author answers all of these questions in a stunning way, making this not just another "social justice" book. In fact, I would say that this is the social justice book that I have been waiting for a long time. It goes beyond "social justice." It is a call to be counter cultural. In this book is presented 10 different issues that go against culture, but God calls us to not ignore these things: They are 1. Pluralism, 2. Poverty, 3. Abortion, 4. The poor, 5. Sex trafficking, 6. Gay Marriage, 7. Pornography, 8. Racism, 9. Persecution, 10. Spiritual Death.
What is fascinating about this book is that the author does not just pick and choose which righteous issue to explore. Unlike liberal and progressive Christianity which tends to favor the cause of fighting for poor and racial equality, but is very ambivalent about sin issues like homosexuality and abortion, Counter Culture pulls no punches. If one calls himself a Christian willing to be a light in this world, he must be consistent and committed to all causes of social injustice, which includes defending God's design of marriage, the unborn who are slaughtered each year in the womb, and purity in light of pornographic influences in society. This is one of the incredible strengths of this book – bringing to light issues that are hardly addressed in social justice books and challenging believers to act upon these things.
However, all of these things would not make sense if it is not for the gospel. Platt uses the first chapter to explain the meaning of the gospel, how that relates to God's character, and how that relates to us. In fact, if we do not understand the gospel, then we have no framework to understand why marriage is the way it is (and we defend it), why abortion is wrong, why racism is counterproductive, and why ignoring the plight of the poor is unbiblical. The gospel is the foundation which explains why we stand up to these particular issues and why they are wrong to begin with. It also gives us a heart for the lost, seeking to establish righteousness because of who God is.
One of the most impressive things about this book, which puts everything into perspective, is the categorization of evangelism as a type of "social justice." Although God is the ultimate judge who will condemn unbelievers to hell for their sin and rejection of Christ, it is our duty and responsibility to bring that gospel to as many people as possible until that time. That is the mission of the church (Matt 28:18-20). That is the work of the kingdom. To rescue people from the spiritual disease of sin and its eternal consequence is the most righteous deed we can do for an unbeliever. Failure to do so is in fact the greatest social injustice. Millions of people die of starvation, disease, and abortion, yet millions more die everyday from sin. If we do not bring them the cure of the gospel in evangelism, then all our efforts in helping people and reforming society is pointless.
This book, which is a series of introductory discussions into current injustices in society that needs to be addressed, is a well-put together and well thought out book. It is extremely convicting, challenging, and necessary. It is exactly what the world needs now. As I mentioned, it is not merely a "social justice" book. It is a counter culture book, grounded in the truth of the gospel. That is why it is a book I would highly recommend to any Christian, a book that should be on every book shelf.
Note: I received this book as a complimentary copy from Tyndale Publishing. I was not obligated to give a good review, but only my honest opinion.
Blessed to have appeared on Cleveland Radio Broadcast from Cleveland, OH, with host Mark Johnson. Here is a YouTube video of my interview: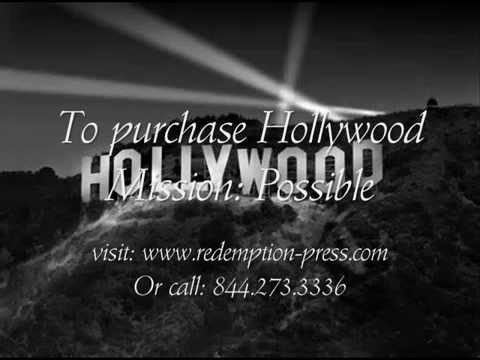 For the full original version, go to: http://www.libertyhillbc.org/
Remember that you can still purchase a copy of Hollywood Mission: Possible for a discount price on Amazon and B&N!
Currently Reading:
Counter Culture: A Compassionate Call to Counter Culture in a World of Poverty, Same-Sex Marriage, Racism, Sex Slavery, Immigration, Persecution, Abortion, Orphans, and Pornography
by David Platt
Category: Christian Living
2015, Tyndale
Question: Steve, in order to accept a pastoral position at a church, which theological differences between you and the church would be: (a) non-negotiable—i.e., you would not accept the position if there was disagreement between you and the church's doctrinal statement; (b) tolerable, but you would reserve the right to teach otherwise patiently; (c) possible to co-exist indefinitely and peacefully?
Answer: Although it is ideal for a pastor/elder to be associated with a church that is in full doctrinal agreement with what the pastor believes about the Bible, there are many cases in which a pastor must decide whether he can shepherd a church in which he has some theological disagreements with, whether it is minor or major. This happens especially with denominational churches that have set practices and beliefs based on historic ecclesiastical tradition, some of which are not wrong, but are also not biblically supported.
What theological factors must a pastor consider when taking on a church? What are doctrines that are paramount? Which are tolerable? Which are non-issues? Must every pastor decide the same way?
First, the pastor must be committed to the non-negotiables of Christianity before choosing a church to candidate at. The non-negotiables are matters dealing with the nature of God, salvation and Christian living. The pastor must examine whether or not the church holds to a true understanding of God, in terms of His nature, character, and attributes. The church should understand God as the eternal, omnipotent, omniscient, omnipresent, immutable, loving, just, righteous, and holy Being. The church must also believe that Jesus is fully God and fully Man, and that the Holy Spirit likewise holds to all the characteristics of God. Any church that severely distorts the character of God is practicing unrepentant idolatry (Ex 20:3; 1 Jn 4:3; 2 Jn 1:7). That means the church cannot believe that God knows partial information, is not entirely sovereign, that Jesus is partially man, or that God is only love and not just or holy. This is the first area of the non-negotiables.
Second, the church must also hold to a right view of the gospel, and not a perverted gospel such as the Prosperity, Social, Kingdom, or Dominion Gospel. Even if the church abides by an orthodox understanding of the gospel, there is a tendency in seeker-sensitive or contemporary churches to water down that gospel, in which they fail to really preach about God's holiness, sin, judgment, hell, or repentance. So the first non-negotiable to look for is the church's openness, and even passion, to uphold and teach the gospel in all its brutal honesty. Galatians 1:8 warns, "But even if we, or an angel from heaven, should preach to you a gospel contrary to what we have preached to you, he is to be accursed!" Jude 3 also exhorts, "…I felt it necessary to write to you appealing that you contend earnestly for the faith which was once for all handed down to the saints." Pastors are not only to preach the gospel, but stand up for it, defend it, and not compromise it in all circumstances.
The third area that is non-negotiable is issues dealing with sanctification, Christian growth, and holy living. This means that the church should never compromise, justify, or approve of practices that the Bible deems as blatantly sinful. Many liberal and progressive churches in the mainline Protestant camp advocate practices like love and social justice, but also teach a dangerous form of "acceptance" and "tolerance" in which they openly support abortion, gay marriage, co-habitation, profanity, approval of other religions, and other unbiblical practices. Anytime a "church" justifies or labels anything sinful to be good, or at least morally acceptable, and anything righteous and holy to be evil, then it ceases to be a church in God's eyes. A church should never in any ways hinder a Christian's strive for holiness, if not cause them to stumble into a severe pattern or support of certain sins.
This is the point of the Apostle John's discussion in the opening section of Revelation, in which certain churches are condemned for its acceptance of sinful practices, with no intention to repent. For example, John addresses the church in Thyatira and proclaims, "But I have this against you, that you tolerate the woman Jezebel, who calls herself a prophetess, and she teaches and leads My bond-servants astray so that they commit acts of immorality and eat things sacrificed to idols." Christ cherishes the purity of her bride (the church), and anything that seeks to destroy that comes under God's judgment (Mk 9:42). That is why the bride is called to be faithful to her groom (Jesus) (2 Cor 11:2; Eph 5:24). This is why pastors should never accept a position at a church if this area is in any ways compromised in a church.
Once the non-negotiables are considered, the pastor now must work out the tolerable issues (in which he might have opportunities to teach what the Bible says about those issues in due time). The tolerable issues are secondary matters of the Christian faith which do not prove a church or a Christian to be heretical or necessarily lacking saving faith. Yet these issues are significant enough that they can split churches or cause brethren to respectfully conduct Christian ministry separately. These tolerable issues include modes of baptism (full-immersion vs. sprinkling, paedobaptism (infant) vs. credobaptism (adult), eschatology (premillennialism vs. amillennialism, futurism vs. preterism), church government (plurality elder rule vs. Presbyterian rule), sign gifts (cessationism vs. continuationism), aetiology (theistic evolution vs. creationism), preaching (expository vs. topical), the Great Commission (evangelism and discipleship vs. gospel and social justice), and others issues. These differences in interpretation and practice do not mean that it is pointless or futile to discover and teach what the Bible says, only that it is not foundational enough to discredit a believer as to his identity as a Christian. There are true believers in many of these categories who indeed preach the true gospel and uphold a high standard of Christian living, but for the sake of the church's unity and peace, they decide to do church separately.
This is also an issue that the pastor must consider according to his conscience, ministry goals, and ability to work with Christians of varying beliefs. Is the pastor content enough to focus on the major aspects of the gospel and Christian living in his preaching, teaching, and counseling? If the answer is yes, then the pastor can by all means pursue a church in which he disagrees on these tolerable doctrines, possibly praying that the Lord will open up opportunities for him to teach the true interpretation of these doctrines as time goes by? However, if the pastor is not comfortable with such churches (possibly because his ministry goal requires that he places a major emphasis on even many of the tolerable issues of the Christian faith, or that he has a low tolerance for disagreement with the elders and laity), then the pastor should candidate at a church in which he will be in agreement with both the non-negotiable and tolerable issues. I say this for the sake of his conscience, his compatibility with the church, and the effectiveness of his preaching through the entire Bible.
Finally, there are issues that are possible to exist peacefully. These are the very peripheral issues of the Christian faith. These are issues that are not on the level of the first two areas that I discussed, and are not important enough to split a church. This means that even if members of a church hold varying opinions of issues in this category, the church should still be united in peace, since it does not affect the practices of the ministry. These issues include mysterious or underdeveloped teachings in Scripture (ex. the designation of OT saints before Jesus' first coming, the meaning of being "baptized for the dead" as discussed in 2 Corinthians, the interpretation of the "sons of God" in Genesis 6). These issues also include matters pertaining to Christian liberty: formal vs. informal dress for Sunday service, no alcohol consumption vs. some alcohol consumption, weekly communion vs. monthly communion, contemporary music vs. hymnal music, church building vs. school setting, work on Sunday vs. rest on Sunday, etc.
With that said, candidating at a church is a major process, and one that a pastor should not take lightly. A union between a pastor and a local church is similar to a union between a man and a woman in marriage. That is why it is important that the pastor understand the importance of not compromising on the non-negotiables, deciding whether he can handle a church with tolerable doctrines, and not being dogmatic on peripheral issues.
John Thompson's Jesus, Bread, and Chocolate is a new Christian living book that seeks to recover a sense of "organic" Christianity that stresses community, relationships, real conversations, and spirituality in contrast to the industrialized, structured, synthetic, and mass market driven approach that he likens to the "industrial, synthetic food." There are some valuable lessons that is learned through reading this book, which stresses the importance of keeping things real instead of treating people and projects as numbers and success stories. In other words, there is no pragmatic, synthetic approach to ministry.
This book is entertaining and at times insightful, but it is also a bit shallow on biblical theology. It is not one of those books that a Christian should read to grow in his faith, or to learn something important concerning the foundations of the faith. Nevertheless, it is an easy book. I don't know if I can highly recommend this book, but it's not something I would dissuade either.
Note: I received this book complimentary from Booklookbloggers.com. I was not obligated to write a good review, but only my honest opinion.
Currently Reading:
Taking God at His Word: Why the Bible is Knowable, Necessary, and Enough, and What that Means for You and Me
by Kevin DeYoung
Category: Theology / Christian Living
2014, Crossway
A great Q and A session from the Inerrancy Summit (Shepherd's Conference) this year:
I will be preaching at the Church of Joy in Los Angeles, CA on Saturday, March 22. For those who want to come out, support, and hear the word of God preached on this special Sunday afternoon, here is the information. The theme/passage is still in the works, but it will most likely come from 1 John, concerning salvation and the fruits of saving faith. This church is pretty special to me because this is where I preached my very first sermon 3 years ago. Praise the Lord for many more speaking opportunities since then.
Hope to meet many of you there:
Church of Joy
3938 Wilshire Blvd
Los Angeles, CA, 90010
Phone: 213.351.9975
Email: chankwak@gmail.com
Time: 12:45pm-2:15 pm
What would A Line Line of Godly Men be without a biography of Martin Luther? Considered the father of the Protestant Reformation, Martin Luther was known for his recovery of the gospel truth of justification by faith and challenging of the Catholic Pope's authority as head over the church. The Heroic Boldness of Martin Luther is a short, but impactful book that demonstrates the life, philosophy, and achievements of this German Monk.
Like the other biography books in the series, this Martin Luther book is not an exhaustive biography, although it certainly contains biographical elements, most notably in the first chapter of the book. Chapter 1 is a fitting beginning that speaks about the early upbringings of Luther and how he eventually entered the monastery (following the lightning strike incident). It was during his years of study of God's word that led him to realize the sinfulness of mankind and the futility of achieving salvation by works. This book brilliantly documents his conversion process and the convictions that have come out of it. He became a heroic man for standing up for the Christian faith in the midst of papal attacks that distorted and long hid the true meaning of salvation by faith.
The other chapters describe Luther's philosophy of ministry and approach to the pulpit. As Chapter 2 documents, Luther was a man deeply convicted that Scripture was inerrant, authoritative, and sufficient. It cannot be superseded by the writings of the church fathers, the Catechism, or even the Pope's fallen interpretation. Because the Bible contains the mind and will of God, Luther believed in the need to understand it through diligent study (Ch 3), which included study of the original text languages. The word of God must also be preached expositorily on the pulpit, taking the meaning of the text, explaining it, and exhorting the congregants through application. Luther has been noted for speaking about making the Scriptures clear, understandable, and relatable, in contrast to the practices of his day in which Scripture was in Latin and the teaching was over the reach of the commoners. Finally, Lawson documents the passion of Luther. In preaching, Luther is demonstrated to have zeal and contagious excitement, which shows that he understood human nature and how to effectively involve them in the understanding and attention to the word of God.
This book is an informative and inspirational book that teaches about the need to boldly defend the gospel and to preach it effectively. In many ways, it is a good preacher's manual in that it demonstrates how a preacher is to approach the text (in humility and in the Spirit) and what ingredients go into making a great sermon (long studies, good introduction, verse-by-verse commitment, pleas and exhortations, passion). This is definitely a call for Reformation as Lawson repeats in the Conclusion. Luther's life demonstrates what ingredients led to Reformation – Christ exalting, God exalting, and Word exalting church. That is what is missing in modern evangelicalism right now, which is why this book is both insightful and important for our day and age. It is a title I would highly recommend for the preacher of God's word, the evangelist, and even laypeople who want to understand the importance of biblical inerrancy and exposition.
Note: I received this book as a complimentary copy from Reformation Trust Publishing. I was not obligated to give a good opinion, but only my honest take.
February 28, 2015 10:12 pm
Currently Reading:
The Happy Christian: Ten Ways to be a Joyful Believer in a Gloomy World
by David Murray
Category: Christian Living
2015, Thomas Nelson
Question: Steve, can you explain to me what Christian liberty means? What are principles of Christian liberty? To what issues do they apply? When must Christian liberty be strongly advocated, quietly practiced, or sacrificially limited?
Answer: Christian liberty are the non-moral activities that Christians are allowed to participate in. This subject is thoroughly developed in 1 Corinthians 9, which talks about the proper use of a believer's liberty. Because they are not expressly forbidden in the Bible, these social preferences, activities, and beliefs are not sinful. These include food, drink, clothing, holidays, jewelry, sports, movies, music, dancing, hairdos, or going to concerts, theatres, or even marrying someone of the same or of a different ethnicity. It is called liberty because they are gifts that God has given to each person to participate in accordance with his unique character and personality. Whereas other religions forbid the eating of certain foods, consuming of certain drinks, and wearing of certain clothing, Yahweh gives incredible flexibility to people in many of these areas. That is one characteristic that makes the Christianity a joyous and free faith in contrast to the cultic and seclusionist practices of some other beliefs and world philosophies.
However, there is a word of caution that must be said about Christian liberty. Though Christians have liberty, they are not to abuse it or think lightly of it. Christians are not free to do whatever they want, because liberty issues are sometimes tied to moral issues. Christians are free to engage in activities as long as it does not cause them, or another brethren, to stumble into sin (Rom 14:12-16). Such liberties can be so tainted with sinful temptation or it can be blatantly misused in a spirit of pride that it is better not to participate in them. It is not only unedifying for personal spiritual growth, but also be of poor witness to other Christians and to unbelievers.
In 1 Corinthians 9, Paul describes how a Christian should use liberty. A Christian is suppose to glorify God in all that he does (1 Cor 10:31). If the activity does not glorify God in anyway, then it is to be ceased. That is suppose to be the standard for which all Christian activity, whether they are in regards to liberty or not, must be measured. That is what leads to a holy and pleasing life before God. The way you discipline your thoughts, speech, and action indicate both your spiritual maturity and love for God.
When examining how one is to use his liberty in Christ, three areas must be taken into consideration:
Personal edification. Is the activity personally edifying to me, or will it cause me to sin? Philippians 4:8 teaches, "…whatever is true, whatever is honorable, whatever is right, whatever is pure, whatever is lovely, whatever is of good repute, if there is any excellence and if anything worthy of praise, dwell on these things." Paul declares in this passage that a Christian must reflect on and be involved in as much godly things as possible. It is beneficial to a Christian's holiness, motivation, effectiveness in ministry, and witness to others.
For example, movies, TV, and music are not bad in themselves. But it's no secret that modern entertainment mediums contain much reference to violence, sex, profanity, and promote poor virtues like pride, selfishness, revenge, and greed. Is it truly profitable for a Christian to indulge in these things? Every time a believer watches a sex-filled movie or listens to a blasphemous CD, he is taking in the material and dwelling upon this things, which overtime, can desensitize his conscience to secular trends that advocate sexual immorality, idolatry, and profanity. To take pleasure in these activities is certainly not wise and goes against teachings such as Philippians 4:8, which can actually lead to sin in thought (Matt 5:21; 27) if not action. That is why it is imperative that believers take caution and be selective in the entertainment mediums that he partakes in.
Even if the movie or music does not contain anything evil in it, but can be partaken in with a pure conscience, it is still good to think about whether it is profitable to watch or listen to. "Should I be watching movies when I could be reading Scripture?" "Should I be socializing four times a week when I could be out evangelizing the lost?" "Should I be listening to jazz music when I could be listening to a radio sermon?" Christians are called to be good stewards of their time and resources, because every believer will give an account of himself at the Bema Seat Judgment (2 Cor 5:10) for what he has done in his life for Christ. That is why every second counts. And if there is a social or entertainment activity that is severely hindering your rewards, then consider limiting liberty in these areas for the sake of your effectiveness on earth. Of course, we should not let music or movies overtake us to the point where it replaces our affection for God, making us guilty of idolatry.
Edification of others. Is the activity edifying to others, or does it cause them to stumble into sin? Romans 14:19 teaches, "So then we pursue the things which make for peace and the building up of one another." Paul teaches that in everything we do, it must be to build others up in the faith. This preserves the unity and love of the Christian church. We are not to exalt our Christian liberty at the expense of someone's spiritual welfare.
One such example can be seen in the issue of clothing choice. Scripture does not give an explicit command, and the appropriateness of the apparel is somewhat relative to each person depending on their spiritual condition and sensitivity. But do our extravagant clothes cause people to envy or be tempted to materialism? Do our clothes cause others to stumble into sexual thoughts? If this is the case, especially with weaker brethren, then it is only fitting that the person acknowledges the situation and dress more appropriately. Why? Because of the Christian's desire to protect the purity and conscience of others. To insist on continuing to wear clothes that stumble others in a spirit of pride is to blatantly abuse Christian liberty, and counts as sin to the Christian's account (Mk 9:42; Jas 4:17).
Another example is with food. Jesus declared all food to be clean to eat (Mk 7:19), but is it profitable to freely eat of certain foods in all situations? You may be acquainted with a Jew who recently converted to Christ, and is slowly growing in the knowledge of the faith. However, he still feels conscientious about consuming pork because of his past association with Orthodox Judaism. Is it appropriate to eat pork in front of him and pressure him into eating it after the Jew expresses his concern? Here is another case in which the Bible teaches that liberty of eating should be restricted in front of struggling brethren (1 Cor 8:9). To insist on eating pork when you know that the brethren is troubled would be a display of pride and lack of concern for his edification, which counts as sin to your account.
Testimony to others. Is the activity going to be a good testimony in front of both believers and unbelievers? Matthew 5:16 states, "Let your light shine before men in such a way that they may see your good works, and glorify your Father who is in heaven." It is not a question of whether our deeds will cause others to constantly praise us or agree with us, but whether our lives are truly reflective of us being genuine Christians, and not hypocrites? Are we truly in this world, but not of this world (Jn 17:16)? Do we demonstrate that are minds have been renewed, and that we do not conform to the sinful patterns of this world (Rom 12:2)?
For example, a pastor may frequent a particular gastropub because he likes the food there, and maybe even the ambience. Although this visitation is not sin in of itself, the congregants in his church may be troubled with the pastor's choice because it is not only a place associated with alcohol, but because many worldly people visit the establishment and express their profane, blasphemous ways there. What should the pastor do? If he is not there for evangelism or any specific ministry purpose other than recreation, then it is proper that the pastor refrain from visiting such a place in order that the congregants will not get a wrong impression of his motives, character, or actions in the pub. 1 Thessalonians 5:22 instructs us to abstain from every appearance of evil. Therefore, it is appropriate at times to refrain from certain activities or visiting certain places because they have a reputation of evil or worldliness, and should not give the appearance that we are associating ourselves with it, especially if it has nothing to do with the Great Commission.
These three principles should probably guide every Christian's management of their liberty. It must be said that even though a Christian is called to wisely control the practice of his own liberties, he must not force, peer pressure, or condemn others for other's liberties as if confronting actual sins. When this happens, it leads to legalism, as Paul forbids in Romans 14:1-12. God is the one who convinces every individual of his or her liberty choices, and is ultimately the judge of them. On the other side, when believers flaunt their liberty, put on appearances of evil, and cause others to be tempted, it leads to licentiousness, which Paul forbids as well (1 Corinthians 8:9). God allows liberty in all areas, but only to the extent that it does not malign Him, impinge on the welfare of others, and ruin the testimony of the church to unbelievers.
Recommended Resource: Concerning Christian Liberty by Martin Luther
February 23, 2015 11:22 pm
David Murray's new book, The Happy Christian, is an uplifting, yet biblical, exploration of the joyful Christian. Contrary to appearance, it is not a prosperity book or even a Christian self-help book with loose connections to the biblical theology. It is actually a Bible-based, theological book on what defines a happy Christian. Is there such thing as a happy Christian? Is it okay to be a happy Christian? What are components that make a happy Christian? These are all questions explored in this unique book.
 The 10 Chapters provide an insight, deep, yet accessible, study on the nature of being a joyful believer. It explores such topics as the gospel message, and a Christian's relationship and interaction with the world in work, media, church, the world, and selfless practices such as giving. As I said, it is a book centered on the Bible, with appropriate verses and passages, but is also filled with good illustrations, statistics, scientific research, and references from modern culture that make this book not only fun to read, but applicable and relatable.
 This is a book I would gladly recommend. It is an inspiring and much needed work that gives a believer a reason to be joyful, especially amidst life's trials, temptations, and tribulation. Many Christians struggle with being happy and joyful in a gloomy and hard world, wondering if it is really appropriate for Christians to be happy. The argument from Murray's book is that it is appropriate, and necessary to be joyful to endure in the work of Christian growth and ministry. And this book lays out the proper guideline for what things should make a Christian happy versus what should not.
 Note: I received this book free from booklookbloggers.com. I was not obligated to give a good review, but only my honest opinion.